2011 Lessons, Outdoor Activities and Seminars
"Anyone can say how good they are but few can demonstrate incredible skill and ability."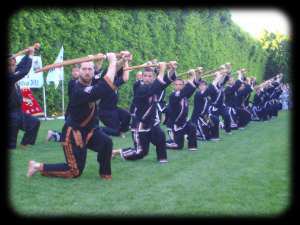 This is my 11th Week Long, They have all been incredible, but I have been shocked at the development I have gained and the benefits of practicing in this environment. My sparring has improved immensely and I truly felt challenged and like I was rising to that challenge. I also experienced some revelations about my strengths and where my power comes from, and how to use it. Weeklong always recharges and rebalances me. It removes any stress and tension that has been building up and accelerates my training. I always learn what I need to focus on next and it gives me direction so I can continue to develop when I get home. I always learn something about myself – my strengths and weaknesses. By the end of the week I usually surprise myself with how much I have grown in that short of time and with what I am capable of. I also cherish the relationships I have built with my fellow instructors and students. We have become a family and always work together and support each other. I look forward to seeing everyone each year. I would like to thank Grandmaster, the International team, and all involved for creating such a strong experience.
E. H. 2nd Degree Instructor
Every year we are passed movement that finds its way into parts of my body and helps develop areas I would never have thought possible.
The higher belts also offer tremendous insight into the nature of movement and self defense that helps improve my understanding of the principles of Moo Doe.
J. C. 2nd Degree
My 2011 Week Long experience was very enlightening for myself. I was able to move, without any pain or stiffness, through all the movements. I've gained more skill and ability from these movements, including jumping, spinning and kicking. I'm grateful to Grandmaster and Instructors from whom I have benefited.
C. G. 2nd Degree Instructor
… the practice at cooler hours has worked well. I have found the mediation in the desert to be powerful. I am very grateful for all of the caring and patient instruction. As I participate the challenge of a long lesson that may be hotter than usual, I am reassured that the instructors will be looking out for us and expect another lesson in finding that I can do more than I thought I could. I find this theme repeated in my training and it gives me confidence in new challenges.
Thank you to Grandmaster and all of the instructors for Oom Yung Doe.
H. T. 1st Degree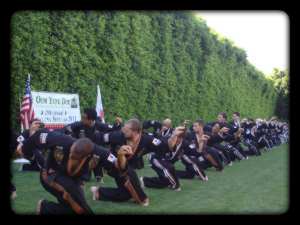 This Week Long has been very good for helping recover my neck condition. The Kom Doe Muk form is increasing my focus and helping with shoulder tightness. I am very appreciative of the high level of Detail passed this Week Long in all the forms, and the personal attention and help form the higher belts. The Dok Sa form has been the most challenging while the Angry Dragon form brings up my energy and focus. The self defence has helped me to understand how to move my body and has boosted my confidence. The Bagwa walks with whole group are very energizing and mediations following are very deep.
T. G. 2nd Degree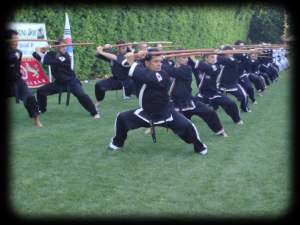 This Weeklong was all about learning how to practice for each individual. Even though, everyone had the same movements I was given very different direction on how best my mind and body could accomplish the goal of absorbing those movements. … by the end of the week, my focus and clarity had greatly increased from when I had arrived.
The Bagwas in the evening were really special for us all. I heard many comments about the power and community each of us felt. Sincere gratitude to Chong Su Nim and every higher belt for a wonderful Weeklong.
S. P. 4th Degree
The movements that I learned this week are powerful and the desert environment seems well suited to maximizing their benefit to the body. During the week, International Instructors adjusted the movement to fit individual students conditions thereby further enhancing the benefits.
G. H. 1st Degree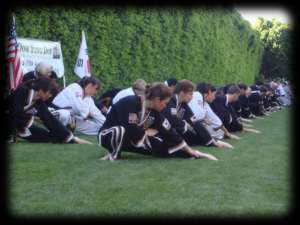 I have been to many Week Long seminars in the past several years and each year I return for the same reason: to rid my self of the negative that I have accumulated during the previous year. Every single time I bow out at the end of the seminar I walk away purified and energized for the year ahead. I don'tive near a school so it is vital to me to have this opportunity each year to cleanse my mind and body of the impurities which accumulate as a result of the stresses and tensions of daily life. I even joke that I should receive a fine for littering since I leave so much negative behind when I head home. I am looking forward to next year's Week Long Seminar so that I can continue this long-standing tradition of detoxifying my mind and body.
J. R. 1st Degree.
I had nasal infection for almost 2 months before coming to the seminar. My practice had fallen off sharply and I was concerned I would not be able to keep up, and was having trouble resetting my practice. With the support of the higher belts my training this week has been incredible. I don't think my practice will be difficult to maintain when I get back, and I have some new favorite forms to practice.
M. R. 3rd Degree