2012 Week Long (16th Annual) Palm Springs, CA
"Anyone can say how good they are but few can demonstrate incredible skill and ability.
I came to the weeklong with a torn left rotator cuff and I thought I would be limited by it in my learning this week. I also had a negative attitude due to the pain and limitation. Throughout the week higher belts adjusted my movement to accommodate my shoulder condition, but my learning was not limited by my condition. As the week progressed my shoulder has healed, I went from about 30%-40% range of motion to 70%-80% of my normal range of motion.
Some of the adjustments passed to me by higher belts to accommodate my condition such as hand/arm position for the Bagwa walk let me experience new insights. Previously in a Bagwa walk my breath was labored and short. With the new hand/arm position my breath was long and smooth with many more (12-14) steps between breaths. The energy I felt through my hands gave them a very warm feeling. My meditations after have been deeper.
The forms this year have been both challenging and fun. I really enjoy praying mantis form and the Gi Gong breathing. The pu chae (sang pu chae) is challenging on my left shoulder, but the grace and smoothness that it is starting to bring is exciting to experience.
Thank you for the 2012 weeklong and the healing I've experienced this week.
Tom G., Age 48, Software Architect
…Before the weeklong I was looking into myself asking for some answers about what it is that I truly know about myself. Why I react to life and life situations certain ways… When Grandmaster spoke on Saturday the 16th it was as though the outline of a guidebook was passed. What resonated deeply with me is the principle of committing with the heart It was as though I received a road map to the next level of my journey The next day I sat for long periods of time digesting the lessons that I took from that seminar. As I believe I will be for a long time. Throughout the week I traveled through several different situations and emotional responses… I also had a wonderful chance to connect to other students and instructors from other areas. We spoke and made meals together, and I really felt a great connection with almost everyone around.
This weeklong has provided me another sort of powerful tools that will allow me to navigate more fluidly through the next stage of my spiritual, and physical life and life situations. I carried a heavy anchor with me from Seattle to this weeklong. Through Grandmaster's words as well as direct guidance of the MLT team I am able now to remove the chains that I have allowed myself to be weighted down by and my spirit is beginning to realize freedom.
Thank you Grandmaster and the MLT team for this unique and powerful opportunity.
MacKenzie G., Instructor, Age 33
Before coming to the weeklong I had set my work responsibilities in order so I would immerse myself in the weeklong experience. A couple days before the weeklong I had and emergency erupt with one of my clients. As a result, I had a mountain of work to handle during this week. When I arrived my stress levels were off the chart. By the end of the Monday morning session, the stress had disappeared. Additionally, my practice gave me tremendous focus and clarity of thought. I was able to get a lot more work done than I normally would. More importantly, I did so without any stress or negativity. While I was unable to immerse myself as hoped, I learned and processed much more than I would have imagined.
I also had a wonderful experience with meditation. While probably a very low level, it was very meaningful to me and motivates me to be consistent with my meditation.
Sincerest thanks to all who made this week possible.
Derek H., Age 51, School Owner, IT Consultant
| | |
| --- | --- |
| | The weeklong was easier than I expected. I was able to follow the movements for most of the training and if I lost direction instructors were patient and helpful. My condition improved in regard to my flexibility, strength and I advanced some kicks that were new to me. I found the atmosphere of participants to be friendly, kind and genuine. Grandmaster's seminar was inspiring to me and helped me to focus on challenging myself during the weeklong. I was having difficulty meditating since I stared training, and I finally was able to have suggestions that resulted in my being able to meditate. I loved the Pu Chae and will continue to practice when I return to the school in Pittsburgh. I arrived with a great deal of stress and will leave more balanced and less stressed. |
I experienced abundant kindness. Even though there were successes and frustrations with the movements, I never felt judged by the instructors or other students.
Although the movements and coordination were challenging, instructors were always available for individual guidance. I found the natural setting mountains in the background, warmth and expansive lawn – to be very relaxing.
I experienced a connection with the group and the natural energy that was very satisfying.
Christine D., Age 65, Mental Health Counselor
This year's weeklong seminar has given my new perspective on how to better handle my situations back home. I am now more capable of seeing the bad habits I carry and the best ways to remove them. I have also begun to see the potential strength I can use to overcome my life challenges.

Barbara M., Age 58, Nurse

Training that frequently and having so few distractions was just incredible for me. I will definitely be going next year! The Bagwa adjustment was fantastic for my knee. I think I got more healing done in the one week than I would have gotten in months at home. Also the climate allowed me to have less pain in general than I've had in years. Daily practice since then seems to have allowed me to maintain my range of motion and minimized pain… Sequences feel good enough to have lots to practice right now…

Having the higher belts around was AWESOME. I can't count how many reasons I am thankful for this

Karina V., Age 30, Forensics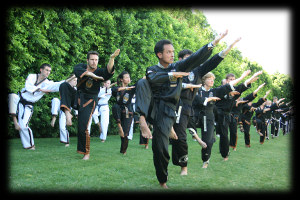 The weeklong has actually been really great for me, not only have I been able to do things in practice that I have never been able to do before, but I've also just had a relaxed week here. It's hard to imagine that working out everyday is relaxing, but it really is. With the meditation, and the movement, and the environment that were in, it's made me grow as a person and it's made me feel much more a part of the Oom Yung Doe community.
AI Emma G.
This weeklong I've felt myself being purged of so much negative… its just removed so much stress from my body and erratic thoughts from my mind… I feel really good.

AI Will H., Age 23, Construction
When I first heard about the weeklong I was a little worried that I wouldn't be able to keep up. I know that practice is important and that it is something that I need to do for my stress level, and I was still really concerned. It's very difficult for me to push myself and after the first day I felt amazing and I continued to feel even more amazing every single day… I feel like I am in a really great position now to go home and push myself in my practice, keep up this feeling and be able to deal with the difficulties of daily life: work, family and finance and everything that we deal with that adds stress. I was able to shed it the very first day and keep it off, and I'm actually really looking forward to going home and keeping this feeling.
Amanda O.
I've just finished my 7th weeklong and this was probably the strongest one that I have experienced thus far. I found that this year I was able to absorb the movements more easily than at previous weeklongs, and for me this week the Bagwa Walks and the meditation were the strongest I have ever experienced, it was an amazing week.
George H.
I actually gained a lot coming to this weeklong. It was my first weeklong so I wasn't sure what to expect, but I was able to relieve my stress on the first day, and then continue being comfortable and relaxed and to get into the movements deeper. I enjoyed being able to spend the time outside in a different environment.
Shaena A.